Developing and deploying advanced technologies for communications and aerospace avionics, lightweighting and specialty coatings requires high-quality, advanced avionics testing and measurement capabilities
Critical measurement capabilities, whether in product development, manufacturing or operations, are essential to ensure the reliability and quality of your mission-critical assets.
Luna's fiber optic sensing platforms, ODiSI and HYPERION, solve many of the industries' most challenging measurement needs, especially those related to the introduction of advanced lightweight composite materials and electrification. Specialized test instruments diagnose onboard fiber optic avionics networks with unmatched precision. Additionally, Luna's T-Gauge terahertz gauging systems deliver the precision and accuracy required for the manufacturing, non-destructive testing and maintenance of today's advanced military coatings.
Explore Key Solutions below for examples of Luna systems enabling the development and deployment of next-generation aerospace technologies.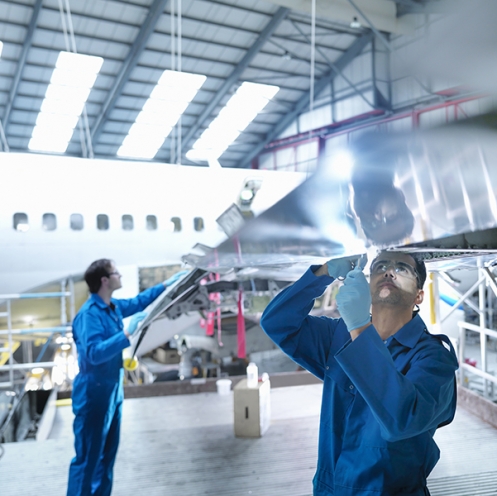 Structural Test and Model Validation

The unique structures of composites materials require new tools for validating performance. Fiber optic sensing provides high definition strain and temperature profiling of composites throughout their manufacturing and integration process. The small size and distributed nature of fiber optic sensing provides in-situ characterization from coupon testing, curing process validation, component testing as well as structural testing with many advantages over the use of traditional strain gages.

Aerospace and Avionics Fiber Optic Test

With the military leading the drive towards complete onboard fiber-optic communications systems, the installation and maintenance of military and commercial avionics needs the ultimate in fiber optic testing and diagnostics. Luna offers the industry's highest-resolution portable reflectometer with significantly enhanced capabilities to troubleshoot fiber assemblies in the field and precisely analyze IL and RL and precisely locate bad connections, fiber breaks and more.

Non-Destructive Testing (NDT) and Quality Control

NDT and quality control are critical for aircraft and spacecraft. Voids, cracks, fatigue and density variations can result in downtime … or even disasters. Pulsed terahertz can be applied for high precision gauging of products in continuous manufacturing or in coating thickness measurement. Terahertz wavelengths penetrate through most non-conductive materials to reveal imperfections. Luna's T-Gauge sensor increases efficiency in the manufacturing and maintenance of the F-35 Joint Strike Fighter.