blog
ODiSI Continues to Expand and Improve with Latest Software Updates
The recent release of Version 2.3.0 of the ODiSI application software continues the ongoing improvements in performance and functionality of the ODiSI high-definition distributed fiber optic sensing platform.  Since the original release of the ODiSI 6000 Series, Luna has continued to evolve the capabilities of the innovative measurement system to deliver better measurements, provide more options for sensor configurations to address more applications, and improve the usability of the ODiSI as a productive measurement and monitoring tool. 
The following improvements, among others, are included in the recent software updates.
More Sensor Options
Beta support for 100 m sensors
Increased the number of extended length sensors (50 m or 100 m) supported on multichannel systems from four channels to eight
Increased maximum standoff cable lengths to 200 m
Standoff cables on different channels can vary in length
More Functionality and Usability
Ability to add analog outputs (voltage or current) via the USB-3106 device for interfacing to external data and control system
Options for real-time data filtering or down-sampling
Improved detection and auto-identification of remote modules and sensors
Advanced data file saving and playback functionality
Remote client software for Windows and Linux to control tests, view live measurement data or playback saved data files.
Improved Measurement Performance
Option to acquire data in Full Optimization measurement mode, which provides general data quality improvement and compensation for transverse strain, which is especially useful for embedded sensors
Increased maximum strain measurement range from ±12,000 μ

e

to ±15,000 μ

e

 
Significant improvements in measurement data quality and robustness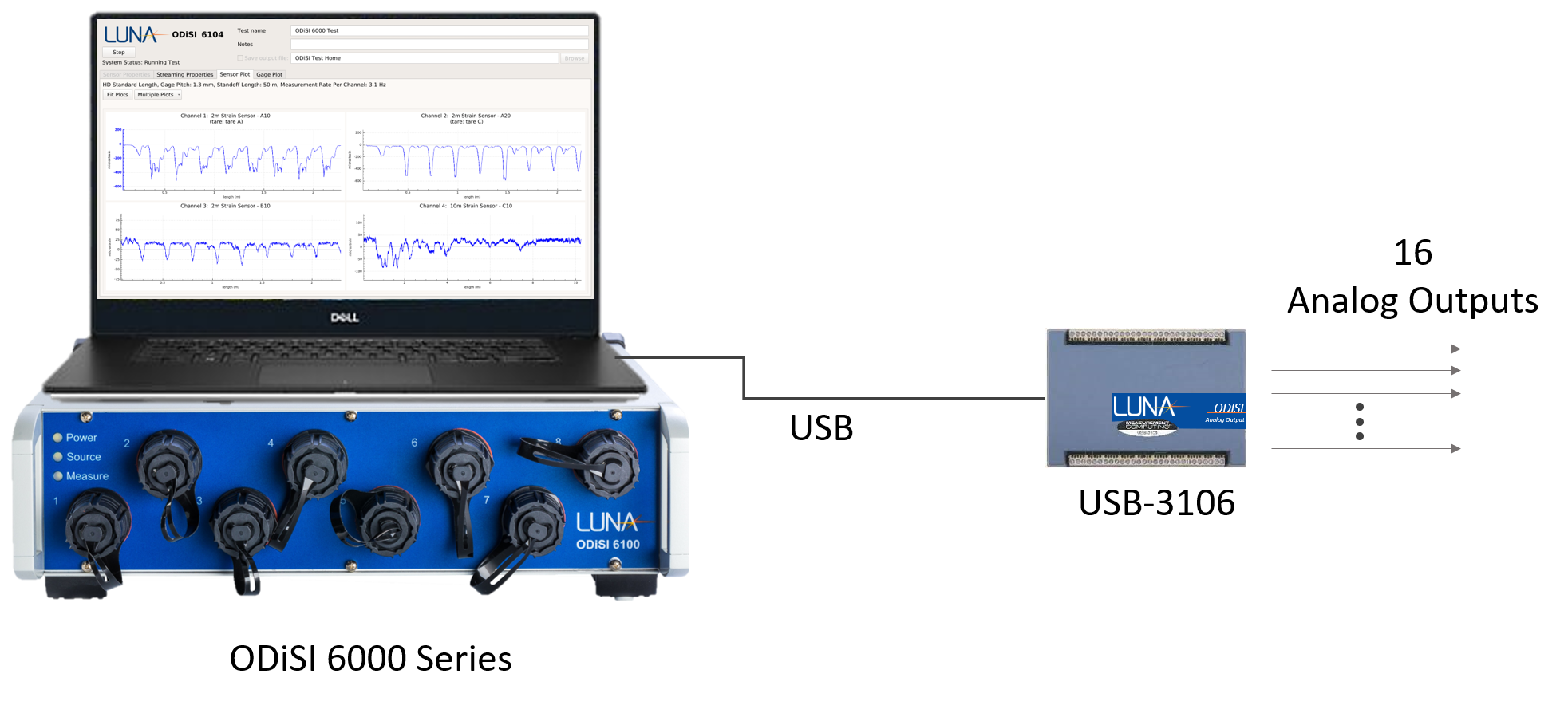 Existing ODISI users should take advantage of these developments by upgrading to the latest version of the ODiSI application software. For users with systems currently running version 2.0.3 or later, they can easily update their system by downloading the ODiSI software here and installing the new software on their instrument controller.
Users with systems running software version 2.0 or earlier should contact Luna support at [email protected] to arrange and schedule a system update via remote access. 
More information on the recent software updates for the ODiSI system can be found in the ODiSI Software Update Product Note.