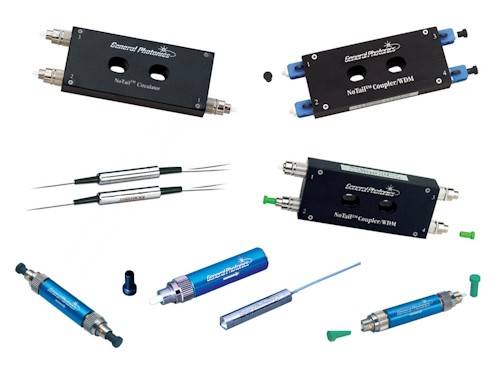 Optical
Passive Components
This product group is a selection of fiber-coupled passive components. Most are available with SM or PM fiber at 1550, 1310, or 1064nm wavelengths.
The passive component product group includes SM and PM couplers (split light at specified ratios), polarization beam combiners/splitters (combine or separate light of orthogonal polarization states), Faraday rotator mirrors (reflected light is rotated by 90° to combat system polarization effects), polarizers (transmit only one linear polarization), isolators (transmit light only in forward direction), and circulators (separate light traveling in forward and reverse directions). For user convenience, most are available in either pigtailed or NoTail versions. The NoTail versions are convenient for laboratory use and storage, as they have no external pigtails. NoTail 1 and 2-port components have almost no internal fiber and are useful for applications that require minimizing optical path length. NoTail 3 and 4 port components have mounting magnets and are useful for setups on an optical table.
Key Features

Reliable
Multiple wavelengths available
Pigtailed or NoTail versions available

Available Passive Components

Please download the data sheet for more details and specifications for these components:

NoTail™ Drop-In Couplers (NTC)
Polarization Maintaining Coupler (PMC, NPMC)
Polarization Beam Combiner/Splitter (PB, NPB)
Faraday Rotator Mirror (FRM, NFRM)
In-Line Polarizer (POL, NPOL)
In-Line Isolator (ISO, NISO)
3-Port Fiber Optic Circulator (CIR, NCIR)

 
Solutions and Applications
The components provide various functionalities for changing the properties of light in a system. They are useful as accessories for many of the instruments and modules, and in various test setups and assemblies.
Contact Sales to Learn More