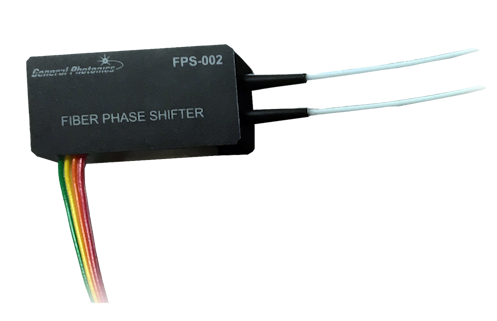 FPS-002
Fiber Phase Shifter
The FPS-002 is an all fiber device that shifts or modulates phase by up to 75π at frequencies from DC to 20 kHz.
The FPS-002 is a small, piezo-driven phase shifter that works by stretching a length of fiber. It has a lower half- wave voltage than the FPS-001 (~2V compared to 10-20V). Like the FPS-001, it is an all fiber design and offers the benefits of low loss and back reflection. Two different size packages are available to accommodate the bend diameter requirements of different fibers.
Key Features

Small half-wave voltage
Low IL, PDL, and residual amplitude modulation
Frequencies up to 20 kHz
Compact

Specifications

Frequency range
0-20 kHz
Total phase shift range (500 Hz)
>65π (1550nm)
Half-wave voltage (500 Hz)
2.5-4.5V (small frame)
0.7-1.5V (large frame)
Resonance frequency
8-14 kHz typical
Half-wave voltage (resonance)
0.1-0.5V typical
Fiber type

SM: 1310/1550nm: Corning ClearCurve ZBL or equiv.

1060nm: Corning HI1060 or equiv.
780nm: Nufern 780HP or equiv.
PM: 1550nm: Bend insensitive PM with MFD=6.5μm
1310nm: Bend insensitive PM with MFD=6.0μm
1060nm: Nufern PM 980XP or equiv

IL
<0.5 dB (at λ c , excluding mode coupling loss and connectors
PDL
SM: <;0.05 dB (excluding connectors)
PM: <0.1 dB (excluding connectors)
Residual amplitude modulation
±0.01 dB (1550nm)
PER
PM: >18 dB, with connectors
Internal fiber length
(fiber inside enclosure)
36 ± 2 cm (small frame)
93 ± 2 cm (large frame)

For full specifications, please download the data sheet.
Solutions and Applications
The FPS-002 is useful for phase shifts of up to several tens of π at frequencies up to 20 kHz. Especially when used at resonance, the Vπ is very small, so it can be driven by a function generator. It can be used for fine adjustment or to add a dither in interferometric applications.
Contact Sales to Learn More