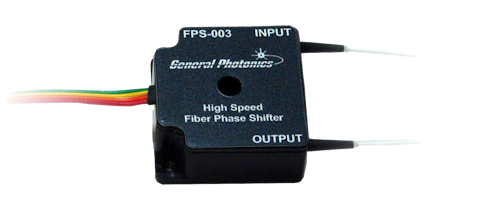 FPS-003
Fiber Phase Modulator/Shifter
The FPS-003 all fiber phase shifter/modulator combines a wide modulation bandwidth (up to 60 kHz) with low half-wave voltages to create a long-range device that can be driven by standard function generators.
The FPS-003 is a small, piezo-driven phase shifter that works by stretching a length of fiber. Like other FPS phase shifters, it employs all fiber construction and has low insertion loss and back reflection. It has a low half- wave voltage and a higher frequency range and resonance frequency than the FPS-002.
Key Features

Wide frequency range (0-60 kHz)
Small half-wave voltage
Low IL, PDL, and residual amplitude modulation
Compact

Specifications

Frequency range
0-60 kHz
Total phase shift range (500 Hz)
>55π (1550nm)
Half-wave voltage (500 Hz)
1-3V typical
Resonance frequency
36-39 kHz typical
Half-wave voltage (resonance)
<150 mV typical
Fiber type
1310/1550nm: Corning ClearCurve ZBL or equiv.
1060nm: 980-1550nm fiber with MFD 5μm at 980nm
780nm: Nufern 780HP or equiv.
IL
<0.5 dB (at 1550nm, excluding connectors)
PDL
<0.05 dB (at 1550nm, excluding connectors)
Residual amplitude modulation
±0.01 dB (1550nm)
Total fiber length
500±10 cm

For full specifications, please download the data sheet.
Solutions and Applications
The FPS-003 is useful for phase shifts of up to several tens of π at frequencies up to 60 kHz. Especially when used at resonance, the Vπ is very small, so it can be driven by a function generator. It can be used for fine adjustment or to add a dither in interferometric applications.
Contact Sales to Learn More