Newsletter
The Luna Quarterly
Luna 6415 Component Analyzer Now Does Even More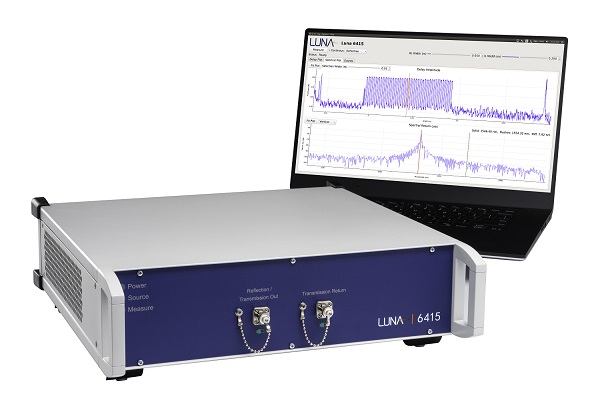 The recent release of the Luna 6415 control software continues the ongoing improvements in performance and functionality of the Lightwave Component Analyzer 6415 platform.  Since the original release of the 6415, Luna has continued to evolve the capabilities of the innovative measurement system to deliver more user functionality, measure longer distances, and make it easier for customers to integrate their Luna systems into external automation systems.  
The following improvements, among others, are included in the recent software updates.
SCPI Commands
Ability to remotely control the 6415 over TCP/IP using SCPI (Standard Commands for Programmable Instruments).  
The universal nature of SCPI allows the customer's automation control software to be written in any application on any operating system, and then transmit SCPI commands to the 6415 control laptop over a standard Ethernet network.   
Updated user's manual includes a section defining the SCPI commands and describing their usage. 
More Functionality and Usability
Added the option to display data for the X-axis in nanoseconds, in addition to the current length units of millimeters, meters, and inches.  
Added the ability to "Show Event Distances" in the Event Table. If checked, the Event Table will show the distances between events instead of the event locations relative to the front panel connector.  This is helpful for customers who need to quickly and accurately measure the lengths of multiple fiber segments connected "in series".  
Longer measurement range option added. The OBR 6415 now can be equipped with an optional measurement mode that extends the measurement range out to 100 m and 200m (in reflection).
Existing 6415 users should take advantage of these developments by upgrading to the latest version of the 6415 user interface software. Existing user can update their system by downloading the 6415 software here and installing the new software on their instrument controller.