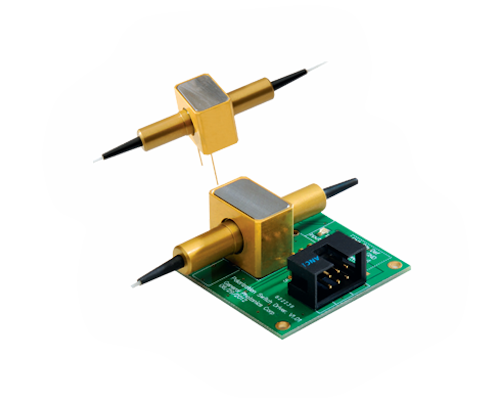 PSW-002
Polarization Switch
The PSW-002 is a solid-state polarization switch that can quickly and repeatably rotate the SOP of incoming light by a fixed angle, either 45 or 90 degrees.
The PSW-002 uses a magneto-optic rotator to switch the output polarization state between two output states separated by a relative angle of 45° or 90°. Both single mode and PM fiber pigtailed versions are available. With the PM option, the device functions as a TE to TM converter, switching the SOP between being aligned with the slow and fast axes of the PM fiber, or between the slow axis and 45 degrees from the slow axis. With the SM option, the device simply rotates the polarization ellipse either 45 or 90 degrees.
Key Features

Digitally switched SOP
Switching speed 100µs
No moving parts
Compact

Specifications

Wavelength range
1550±30nm or 1310±30nm
Polarization rotation (at λc , 23°C)
45±0.5° or 90±0.5°
Polarization rotation
(all wavelengths, all temperatures in range)
45±5° or 90±5°
Rotation angle temperature dependence
−0.1 degree / °C for 45° version
−0.2 degree / °C for 90° version
SOP switching speed
100µs typical
Switching Current
< 130 mA
Switching Voltage
2.5 V
Latching Current
~ 80 mA
Latching Voltage
1.5 to 2 V

For full specifications, please download the data sheet.
Solutions and Applications
The PSW-002 is a small module suitable for OEM integration wherever polarization switching is required. Applications include polarization diversified detectors and sensors, polarization sensitive OCT, polarization metrology, polarization sensitive OTDR and OFDR, and PMD monitoring.
Contact Sales to Learn More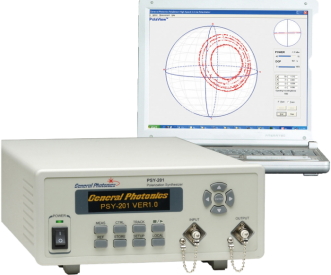 Polarization Management and Emulation
Control and manage polarization in your optical system with our lossless fiber-squeezer based multifunctional polarization controllers for highest performance. Emulate all polarization impairment parameters including SOP, PMD, and PDL, with our complete line of emulation products for network and system characterization.