blog
New Component Analyzer for Silicon Photonics and PICs
At the OFC 2018 in San Diego recently, we unveiled the newest member of Luna's family of high-performance test equipment for the lightwave industry.  The LCA 500 Lightwave Component Analyzer combines industry-leading resolution and sensitivity with high speed and simplified setup to deliver a component characterization solution that extends beyond the R&D lab and onto the production floor.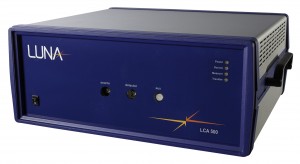 High Fidelity IL, RL and PDL
The rapidly advancing technology of modern silicon photonics and photonic integrated circuits (PICs) is driving the need for higher precision measurement solutions that are able to accurately characterize miniaturized wide bandwidth components.  The LCA 500 delivers highly accurate loss measurements, including insertion loss (IL), return loss (RL) and polarization dependent loss (PDL), which is critical for modern integrated photonic components.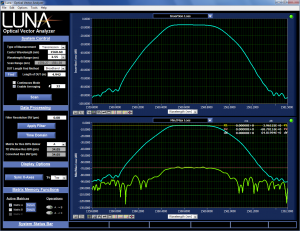 Simplified Setup
Like Luna's other lightwave test products, the LCA 500 simplifies your test setup and configuration, incorporating a built-in precision tunable laser source (TLS) and able to measure components in both transmission and reflection. The LCA 500 also reduces test time with fast scans of the complete C and L band, or O band, I less than 3 seconds.  Therefore, your test setup and execution is streamlined without the need for an external TLS or manual reconnections. 
Learn more about the LCA 500 Lightwave Component Analyzer.