blog
US Air Force and Luna Team Up on Next-Gen Coatings Testing
In a recently published AFRL article titled "New Corrosion Evaluation System Makes Sense for Air Force", Dr. Chad Hunter of Air Force Research Laboratory (AFRL) discusses how CorRESTM from Luna Innovations enables the Air Force to rapidly introduce new corrosion protection and control technologies with minimal risk. According to Dr. Hunter, "There's a lot of variability in corrosion tests, and CorRES allows us to monitor this variability and provides quantitative data that helps us better understand a coating's performance in the lab so we can project how it will perform in the operational environment."
CorRES is an evaluation system providing continuous measurement of coatings performance and the test environment over time. Quantitative, time dependent measurements allow for more accurate and thorough determination of coating performance.  CorRES measurements offer a significant advantage to those who are either interested in shortening new coatings or additive materials development time, or are responsible for coating qualification and want to reduce performance risk associated with new coating introductions.  
The technology was developed in partnership between Luna, AFRL, and the Air Force Corrosion Prevention and Control Office. The support and participation of Dr. Hunter and Mr. David Ellicks and their team has been instrumental to Luna's successful development of a robust test system for use in accelerated test chambers and outdoor exposure sites. CorRES is now available for purchase and is used by government and industry customers across the world. Contact [email protected] for more information.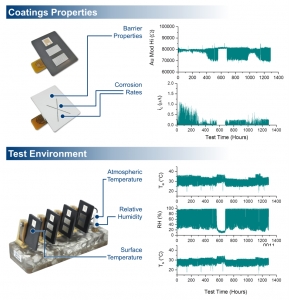 Quantified, Real-Time Coatings Performance
CorRES multi-sensor panels (MSP) with interdigitated electrode (IDE) sensors are used to quantify coating performance continuously throughout a test.  The MSP are designed to be coated and scribed using conventional panel preparation techniques. Measurements are made per ANSI/NACE Standard TM0416-2016 "Test Method for Monitoring Atmospheric Corrosion Rate by Electrochemical Measurements".
Versatile
CorRES test systems are designed to withstand harsh, corrosive conditions to allow for long term use in corrosion test chambers and outdoor environments.  When used in laboratory test chambers the CorRES operates off of line power, and for prolonged unattended outdoor tests, the system can be supplied with a battery pack.  This low-power device collects coating performance data for extended periods of time (> 1year) without a battery replacement.
Data can be downloaded from the system by user command. Luna's intuitive graphical user interface provides data visualization and allows data to be retrieved in common file format for easy exporting to analysis and processing software.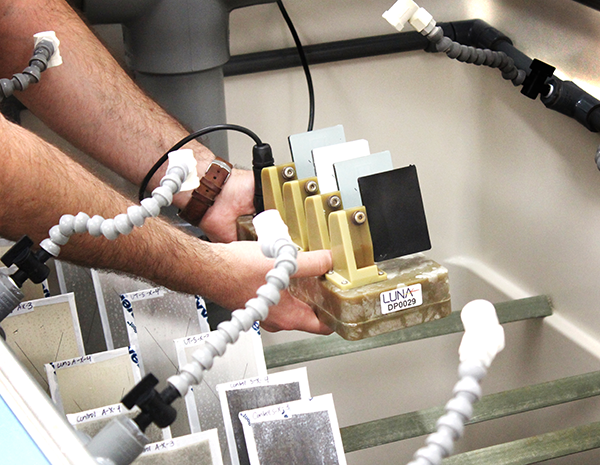 CorRES Supports:
High throughput measurement for performance testing and coating formulation development
Protective coating and inhibitor selection and coating qualification
Measurements of coating performance and alloy corrosion for specific atmospheric exposures or service environments
Automated environmental data collection and record keeping for comparing conditions and results among test chambers, between labs, and relative to previous tests
References
1 "New Corrosion Evaluation System Makes 'Sense' for Air Force," Wright Patterson Air Force Base News, March 20, 2018, http://www.wpafb.af.mil/News/Article-Display/Article/1469372/new-corrosion-evaluation-system-makes-sense-for-air-force/.