blog
TeraMetrix announces a new high performance sensor for process control
In response to customer demand, TeraMetrix has added a new enhanced performance sensor to its product line.  There is strong market demand for the measurement of thinner material layers, and the new sensor is designed to meet that need. Designated the EPG to emphasize its enhanced performance, this sensor will open new markets and applications where the wall thickness, layer thickness or coating thickness is too thin for our standard sensor.
The form factor of the EPG is almost identical to our existing transceiver, so our integrators do not need to redesign their sensor mounts.  While our standard online transceiver could measure thicknesses reliably down to 100 microns, the new sensor, coupled with some software improvements, can measure down to 20 microns or below.  Thinner layers must be taken on a case-by-case basis, since measurement speed, material parameters, and product details can affect these limits.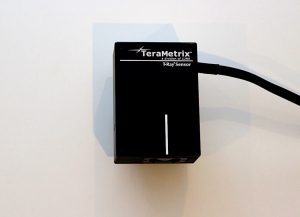 One of the impressive facts about the TeraMetrix development team is the speed with which the EPG was developed.  In less than 3 months the new sensor went from concept to delivery. 
The EPG has a fixed internal optical alignment, which maintains the ease of use that customers associate with our standard sensor.  The EPG can be supplied with either a 3-inch or a 6-inch focal length lenses.
For more information contact [email protected].