blog
Product Spotlight: T-Gauge® Sensor Configurations
Whether your application is online process control, at-line quality control, laboratory sample evaluation, or non-destructive testing, TeraMetrix has a terahertz (THz) sensor to meet your needs.
Choosing the right sensor is critical to optimizing the performance within your application.  With a suite of easy-to-use products and accessories, your measurement challenge can be met.
For process control, the T-Gauge® Sensor Configuration changes the nature of online gauging. By coupling a T-Ray® 5000 Intelligent Terahertz Control Unit (TCU) with an umbilical and a Sensor head and running it with the T-Gauge software configuration, a high-fidelity terahertz pulse can be produced. The rich data derived from the pulsed terahertz signal allows multiple measurements from a sin­gle sensor. The multitude of connection options allows seamless integration with any QCS system. Measurements of multi-layer thickness, caliper thickness, basis weight, density, and delamination can be made with a single compact sensor technology.
TeraMetrix has developed a robust product line featuring a variety of sensors to create systems that have been deployed worldwide for a variety of markets and applications. Deciding which sensor is best suited for your need is based on the thickness of an individual layer and the type of measurement you are seeking (thickness, basis weight or density).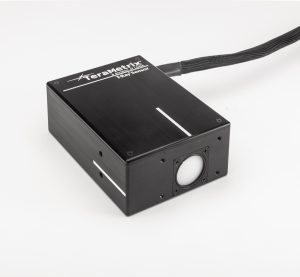 Standard Online Sensor Head (HXC50yn)
The HXC50yn Online Sensor Head (HX50yn) is a robust, factory hardened transceiver for the T-Ray® 5000 terahertz system.  Reflection measurement of thickness, multi-layer thickness, and basis weight are easily acquired. A variety of lenses are available to adjust the measurement spot size and working distance (1, 3 and 6 inch).
The transmitter and receiver are securely mounted inside the sealed metal housing. The umbilical for the transceiver, containing the electrical and optical connections, is constructed with high flex rated electrical cable to allow continuous scanning, and can be up to 45m aggregate length.
The HXC50yn provides sufficient bandwidth to measure layer thicknesses down to 50 microns.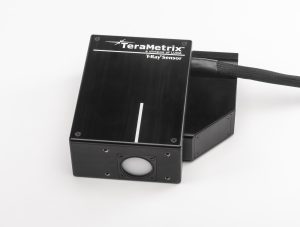 Online Sensor Head with VRS (HXC51yn)
The HXC51yn Online Sensor Head adds functionality to the standard online sensor head (HXC50yn) with a virtual reference surface (VRS). The VRS enables non-contact, calibration-less caliper thickness measurement as well as basis weight and density without reducing the open separation between the sensor and the product.
When connected to a T-Ray® 5000 Control Unit, the HXC51yn will provide waveform response equivalent to that of the HXC50yn, and capable of providing detailed reflection measurement of layered surfaces.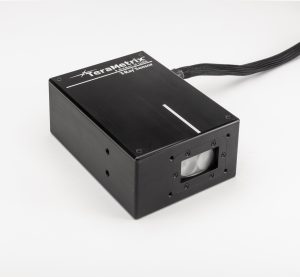 Online EPG Sensor Head (HXC53y2)
The HXC53y2 Online EPG Sensor Head allows measurement of thinner layers than the standard HXC50yn Online Sensor Head. With higher bandwidth, and higher signal to noise, the EPG opens new applications to terahertz process control.
When connected to a T-Ray® 5000 Control Unit (TCU), the HXC53yn will provide detailed single-sided measurement of layered products. Coatings on metal or composite substrates and free-standing films can be measured down to 10 microns (0.5 mils), while buried layers as thin as 25 microns can be measured.  In order to measure layers this thin, the EPG sensor will require a tighter tolerance on pass line variation.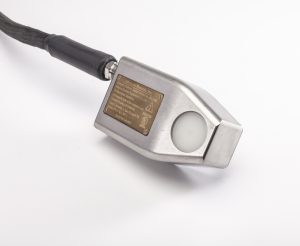 CID1 Sensor Configuration (SCS500n)
If your application exists in an explosive environment, the T-Gauge Explosion Proof Thickness Measurement System (SCS500n) takes the robustness of the T-Ray® 5000 to a new level with the ability to operate in flammable atmospheres, such as paint booths or coating facilities. The sensor is designed to be robot mountable and intrinsically safe.
The transmitter and receiver are securely mounted inside a sealed stainless-steel housing. The lens is Teflon coated to resist solvents. All components in the hazardous area meet CID1 (Class I Division 1) standards.
Due to its compact size, the transceiver of the SCS500n is suitable for coatings down to 50 microns.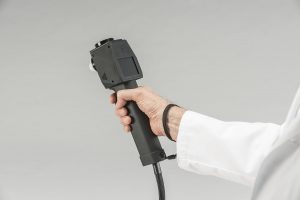 If your application calls for handheld coating measurement, or defect detection, the SPG500n provides an easy to use tool for coatings down to 25 microns and can display up to 3 selected measurements on the screen at the pull of a trigger.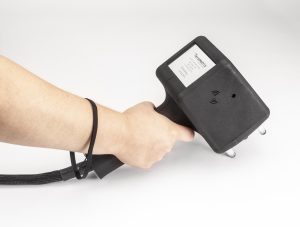 The LSG expands the utility of the handheldby scanning the beam along a 2 or 3-inch line, providing a real time cross-sectional image (b-scan) of the object under test.  The individual waveforms can still be analyzed to provide layer measurements, and individual b-scan images or b-scan videos can be captured.  The LSG can measure layers down to 50 microns.
The team at TeraMetrix is ready to help determine which of our sensors is the best solution for your needs. For information on these featured sensors or any of our terahertz measurement products please feel free to contact our team.