blog
Luna's Dissolvable Swabs can Revolutionize Crime Scene Investigations
Forensic Swabs Do Not Perform as Needed in Criminal Investigations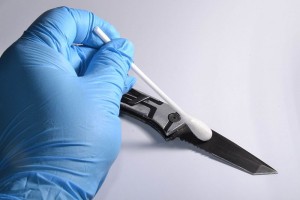 Forensic swabs are routinely used by crime scene investigators and forensic scientists for the collection of a wide range of evidence types for analysis (Figure 1). Collecting biological samples for subsequent DNA analysis is one of the primary uses for forensic swabs. These swabs are used to adsorb blood, saliva, sexual assault evidence, and what is called "touch DNA": skin cells shed during the process of handling an object. 
Commercially available forensic swabs typically have great performance at adsorbing biological material from various surfaces, though they do not perform as well at releasing material from the swab for subsequent DNA analysis. The consequences of this are clear in cases when only a few cells are available for analysis: if a small number of cells are adsorbed onto the swab, but only one or two are released by the forensic scientist back in the laboratory, there may not be sufficient DNA material to perform an analysis. This is of critical importance in cases of sexual assault when the victim has taken a shower prior to reporting the incident and most evidence has been washed away, and in cases involving touch DNA where only a few cells are available for analysis.
Luna's high-performance forensic swab revolutionizes the field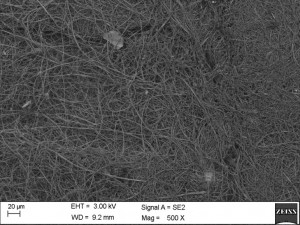 To address this limitation, Luna Innovations is developing a new kind of forensic swab. Luna's swab technology starts by completely re-imagining the material used. Whereas existing forensic swabs typically use cotton or rayon fibers that are around 20 micrometers in diameter, Luna has gone smaller: 0.2 micrometers (Figure 2). This two order of magnitude decrease in fiber diameter means that for the same material weight, Luna's swabs have 100 times the surface area. This innovation gives Luna's swabs much greater surface opportunity to pick up biological specimens.
Additionally, Luna has moved to an innovative new fiber material: cellulose acetate. Cellulose acetate is an inexpensive material derived from the plant polymer cellulose, but with some acetyl substitutions. This polymer is amenable to being spun into 0.2 micrometer fibers, and has unique solvent interactions relevant for forensic DNA analysis. Cellulose acetate is insoluble in water, detergents, ethanol and most other common liquids and solutions you may find around a house, a business, or the outdoors. However, cellulose acetate completely dissolves in a chaotropic solution, which are commonly found as part of DNA extraction protocols (Figure 3). This feature allows for 100% of the biological material on a forensic swab to be released for analysis.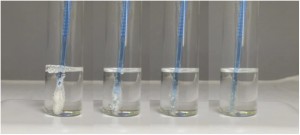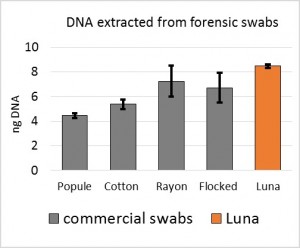 Luna has already demonstrated that our forensic swabs are superior to commercial forensic swabs in conditions where Luna's swabs are not even dissolved (Figure 4). In this investigation, swabs were used to adsorb biological material off of surfaces, then all forensic swabs subjected to a standard DNA extraction protocol that does not support swab dissolution. Luna's excellent swab performance in this study is likely due to the nanoscale cellulose fibers of the material both adsorbing a large amount of biological material, and also due to the size of the fibers preventing biological material entanglement during the extraction protocol.
The future of Luna's swab is bright
Luna is presenting its swab technology at the 69th Annual Meeting of the American Academy of Forensic Sciences in New Orleans, LA. Join us during the Session III of the Criminalistics Session, on Thursday 2/16/17 at 5:15 pm CST, to learn about this exciting technology.
This material is based upon work supported by the U.S. Army Research Office under Contract No. W911NF-16-C-0113.  The content of the information does not necessarily reflect the position or the policy of the Government, and no official endorsement should be inferred.