blog
High-speed waveform acquisition is key to terahertz imaging
Pulsed terahertz imaging can provide a wide array of information about a sample. Whether it is the thickness of particular layers, the presence of an internal void, detection of a specific gas, or the density distribution in a layer of foam, a pulsed terahertz image can provide valuable information.  Although it generates a 3-D dataset, with information on both the surface and the internal structure, one of the drawbacks of pulsed imaging is that it is collected one pixel at a time.
The single point terahertz sensor must be scanned over the object to create an image.  This makes the speed with which each pixel can be acquired particularly important.
For most systems, imaging can be performed with a two-axis scanner.  TeraMetrix offers the T-Image® x-y scanner.  The T-Image is capable of scanning at rates up to 150mm per second, and can provide step resolution down to 25 microns (which is well below the minimum spot size of the terahertz beam).  The imaging speed is still going to be limited by the rate at which a single pixel can be measured.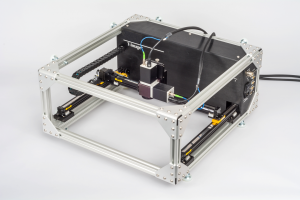 The TeraMetrix T-Ray® 5000 Terahertz Control Unit (TCU) has the highest speed waveform acquisition rate available.  Even the lower speed versions (TCU5210 and TCU5213) are faster than most systems on the market today, with a waveform acquisition rate of 100 pixels per second.  The high-speed versions (TCU5211 and TCU5212) are unsurpassed, with an acquisition rate of 1000 pixels per second. 
The T-Image can be configured in reflection, as shown here, or in transmission, and can be deployed in any orientation.  This allows scanning of walls or paintings.  The entire system is portable, so it can be taken to where the object is rather than requiring it be brought to the lab.
For larger pixel sizes (greater than 150 microns), the image acquisition rate will be limited by the speed of the T-Image.  To overcome this limitation, the scan axis can be replaced with a deflection scanner.  Imagers of this type can produce cross sectional images in real time.
A handheld version of this scanner, the line scan gauge, or LSG can produce a real time image of subsurface structure.  Here the LSG is shown detecting the support stud under the room's drywall.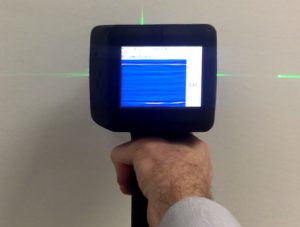 While both of these imagers are impressive, they are only possible due to the high acquisition speed of the TeraMetrix T-Ray 5000.
For more information contact [email protected].