Events
MegaRust 2021 Conference
Luna Innovations will be speaking at the MegaRust 2021 Conference on Thursday, September 23, 2021 at 2:00pm ET in Hampton, VA.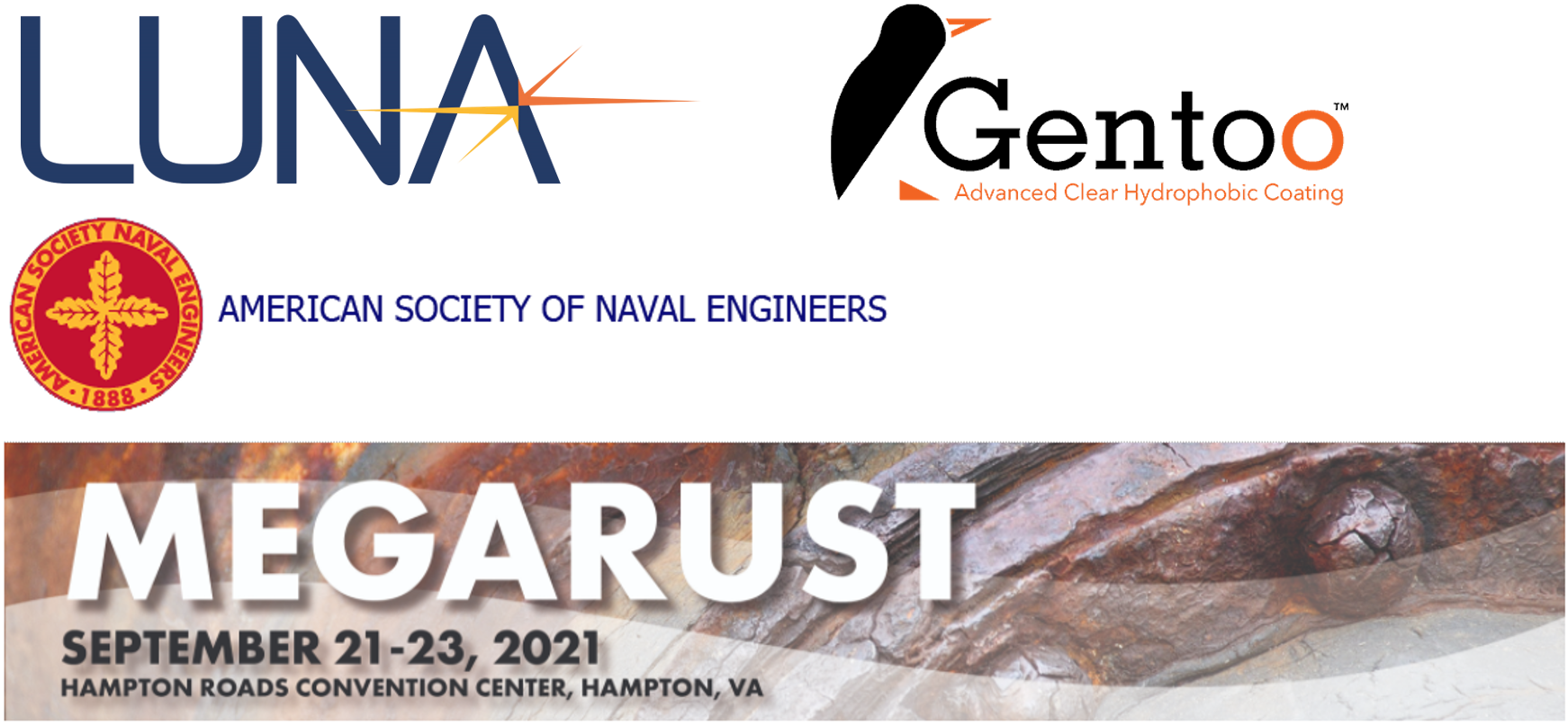 Luna's Presentation: Fernando Farelas is presenting recent work on "Durable Coatings for Prevention and Easy Removal of Undesirable Stains on Ship Structures" during technical session 6 in Room 204.
Abstract: The problem of running red rust and green effluent staining on the U.S. Navy's ships is common and undesirable. For example, the Freedom-class Littoral Combat Ship (LCS) is based on a steel hull with an aluminum superstructure. Running red-rust stains form on top of the coated steel hull at bilge discharge locations. The Independence-class LCS is based on an all-aluminum hull and superstructure which is not coated. Green stains often form on the bare aluminum hull at bilge discharge locations. Both of these stains are unsightly and undesirable. 
To mitigate the stain formation and facilitate its removal from any ship structure that suffers staining, Luna Innovations evaluated GentooTM, a newly developed hydrophobic coating. Gentoo (G2) was applied as a topcoat over polysiloxane coated C36 steel and on bare 5083 aluminum panels. Steel panels, controls and G2-coated, were exposed to ASTM B 117 salt fog testing and continuous running red rust for more than 500 h. Compared to controls, the panels coated with G2 showed a significant reduction of red rust staining and the surface was easily cleaned by Navy approved cleaning method for stains on polysiloxane coated surfaces. The ability of G2 to prevent green staining and easy removal on aluminum alloys was demonstrated by intermittent spraying for 1000 h of a CuCl2 solution that was used to induce green staining. Additionally, the G2 resistance to ultraviolet exposure (UV) was evaluated.  A review of the test results and coating capabilities will be presented.
The MegaRust conference is held annually to focus on mitigating Navy corrosion issues. The conference provides an impartial forum for dialogue between government and commercial organizations, and providers of coatings and corrosion control products, processes, technologies and solutions. Participants include representatives from military, industry, and government organizations involved with research and development, design, engineering, construction, maintenance, modernization and operation of naval systems that are potentially affected by corrosion. The conference covers all segments of the naval services including sea, air, Marine Corps, vehicles, and facilities.